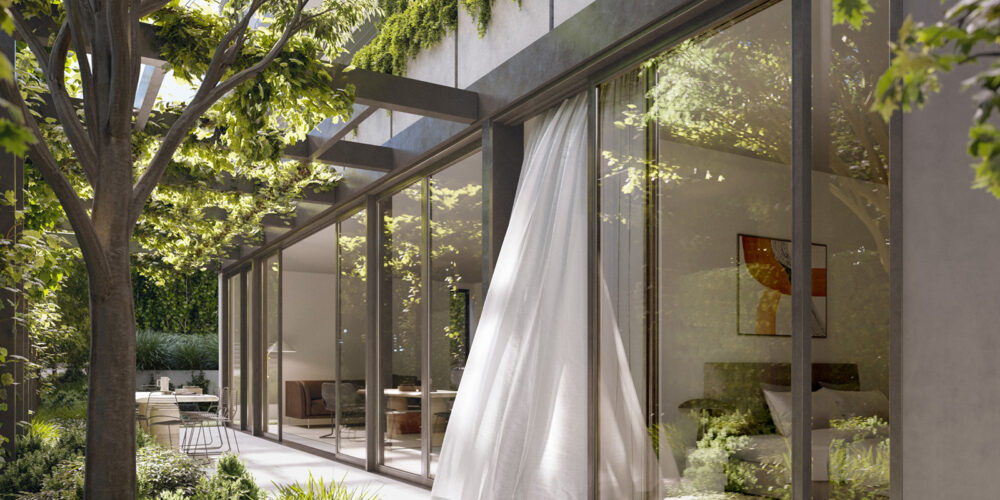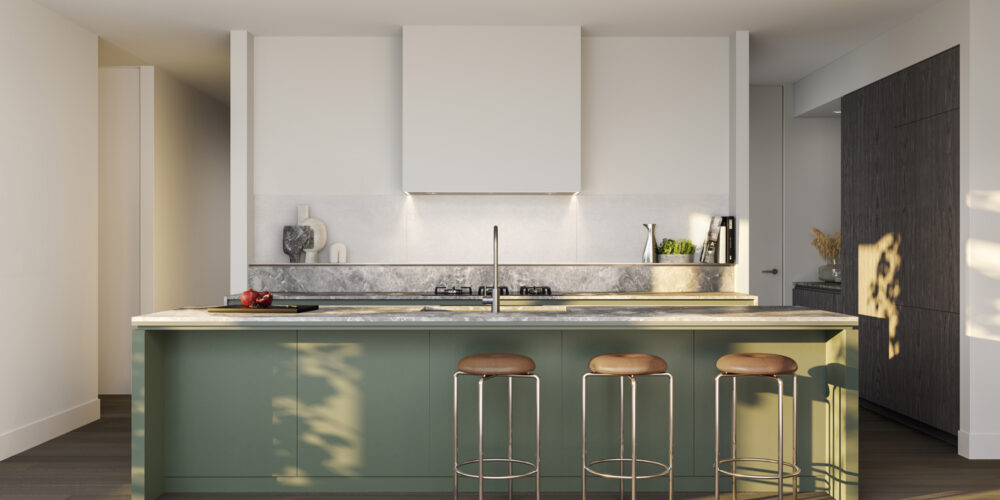 When it comes to leafy inner- eastern suburbs, Malvern East ticks every box. With its abundance of parks, village-style shops and prestigious schools, it's a suburb that tops many wish lists. Hurstmon Street, just off Malvern Road, will soon welcome a new architecturally designed boutique project. Hurstmon is a 39-apartment development by Landream that offers a range of features that sets it apart.
The first is the distinctive vertical blades that intersect the facade of the development. Made from rammed earth, these columns are integrated into the structure of the building and double as an eye-catching aesthetic element.
Architect and director of Telha Clarke, Stuart Telha, says the many colours of the rammed earth give a distinctive tonal variation to the exterior. "It depends on what the light's doing – sometimes they look quite orange and sometimes they look grey," he says. "We wanted to bring a bit of warmth to the building externally."
The second is the availability of one-bedroom apartments, which often aren't included in boutique inner-city developments. Just like the two and three-bedroom apartments at Hurstmon, the one-bedders have spacious living areas with floor-to ceiling windows.
Another point of difference is the aspect afforded from every apartment. None has been relegated to shadowy corners, says Telha. "We focused on giving each apartment a beautiful outlook," he says. "Quite often in projects you might get one really nice orientation and the rest is rubbish, but for this project there was a lot of focus on making each apartment big and beautiful."
What many residents will notice upon inspection at Hurstmon is the lush and detailed landscaping. Tuning into the signature greenery of Malvern East, the landscaping features a rich variety of plants that complement the architecture, says Scott Leung, director of Eckersley Garden Architecture.
"I think the main thing that struck us was the use of the rammed earth," he says. "We've always loved the use
of natural products, whether it's timber or stone or soil that's been put in almost like an art piece. So we wanted to keep the garden quite subtle so it didn't take away from the building, and kept that true Malvern East feel."
Ground floor residences have access to landscaped courtyards, while those on upper floors have expansive balconies with planter boxes. The interiors, also by Telha Clarke, are driven by layered textures and carefully planned materials.
The foyer features handcrafted lighting by Richmond-based studio Articolo, while the kitchens are distinguished with slate green joinery. Adding to this palette of earthy tones is walnut timber, stone and brushed nickel accents.
Completing the picture at Hurstmon is its location. Darling train station is just a two-minute walk away, while the Monash Freeway on and off ramps are accessible in either direction. Chadstone Shopping Centre is a 10-minute drive and for something closer, residents can simply walk to Hedgeley Dene Gardens or to the end of Hurstmon Street for Malvern Road's cafes.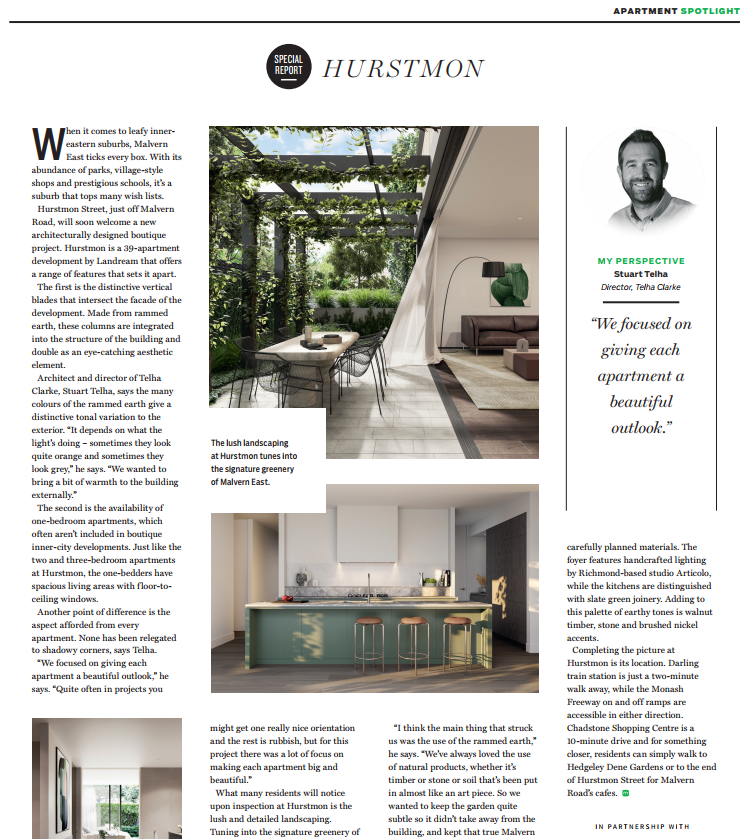 Go To Article >