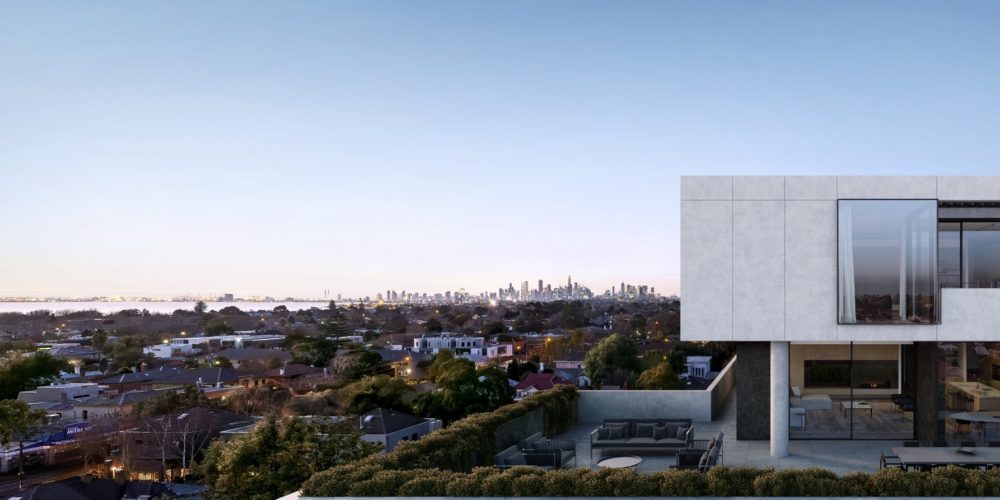 In the heart of affluent Brighton, a remarkable residential development is taking shape – The International. With an array of premium features and an idyllic location, this luxury apartment project stands out as the idyllic home for downsizers seeking peaceful living, privacy, and safety just moments from the beach.
With construction well underway by VCON, The International is making steady progress and remains on track for its expected move-in date in early 2024. Remarkably, it has sold 85% of its units, underscoring its appeal in the real estate market.
The market for upscale apartments in Brighton's sought-after area is thriving, with increased inquiries, appointments, and successful sales observed in recent months. This heightened demand is driven by buyers with long-term lifestyle goals, planning for the next 15 years and beyond.
The International caters to this lifestyle demand by offering two unique living experiences. It provides low-maintenance luxury living for downsizers selling family homes in Victoria and a refreshing sea change for those transitioning from the inner east to Bayside apartments.
"Buyers have been a mix of downsizers and younger professionals, mainly located in Victoria and looking to live the bayside lifestyle and are attracted to our hotel-style living concept," Head of Development VIC at Landream, Mitchell Crawford says.
"The International is the first of its kind in Brighton, offering residents unparalleled amenity such as 7-day concierge services, a stunning lobby, wine tasting room, private dining room for up to 20 guests with back-of-house kitchen, rooftop entertaining, even executive office facilities complete with AV."
Designed by the award-winning architect CARR, The International's design not only pleases the eye but also serves functional purposes, meeting the needs of downsizers seeking well-designed living spaces.
Moreover, The International's breathtaking bay and city views make it a premier choice. Each day, you can wake up to panoramic vistas of sparkling bay waters and the vibrant city skyline from the comforts of your expansive home.
You can revel in these spectacular views from the building's private rooftop terrace exclusive to residents. Entertain loved ones in this space or your choice of The International's many communal areas, fostering upscale club-style living. With a restaurant curated by Chef Ian Curley, you will find lifestyle perfection here.
If you seek more, The International is conveniently located near the Bay Street retail precinct for shopping and entertainment. Yet, it remains tucked away to offer a peaceful retreat from the suburb's hustle and bustle, situated away from vibrant Church Street and just a short 900-meter walk from the beach.
Deeply committed to sustainability and eco-conscious living, The International incorporates solar-powered communal and public lighting to reduce energy costs and environmental impact. Additionally, it integrates rainwater irrigation systems into planter boxes for efficient water usage in maintaining green spaces. These environmentally friendly features collectively make The International a responsible and sustainable choice for modern living.
The development's excellence owes much to its collaboration with local sub-contractors. InDesign, known for its meticulous craftsmanship, handles the joinery, while AuGRC ensures a durable and appealing glass reinforced concrete (GRC) facade. E&S Trading delivers top-notch appliances for modern living, and Vine & Vault adds sophistication with an exquisite wine room.
All of this is in addition to the well-established reputation of luxury residential builders VCON, renowned for its ability to consistently deliver quality residences. The team is making steady progress on construction, meaning you can move into this coveted Brighton address next year.
Two and three-bedroom family-sized residences are now selling from $1,600,000.
For more information or to enquire about The International, click here.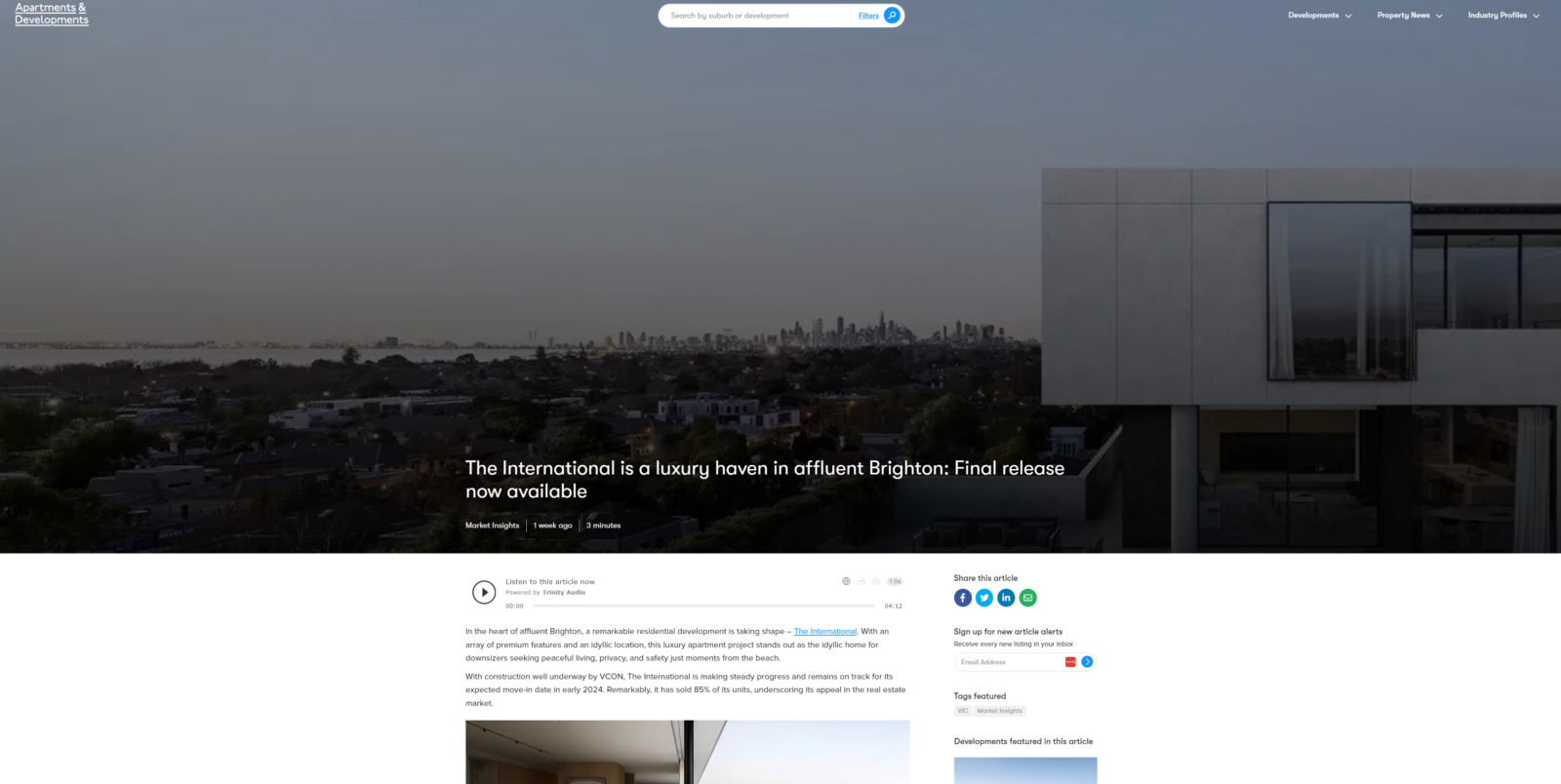 Go To Article >