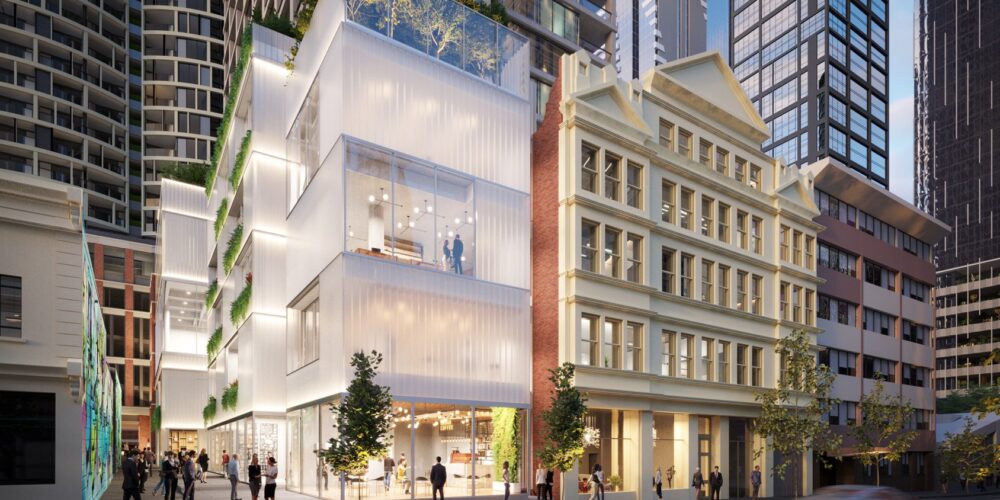 New build-to-rent platform Alt Living is confident of raising up to $200 million from offshore and local institutional investors to fund its first two projects in Melbourne, after teaming up with local developer Landream.
Led by former Hmlet Australia managing director Chrystan Paul, Alt Living has taken charge of 100-106 Franklin Street, a $105 million development in the Melbourne CBD offering 267 apartments which Landream converted last year from a build-to-sell project to build-to-rent.
Alt Living's second seed project will be on a 2365 square metre site at 11-41 Buckhurst Street in South Melbourne, within the Fishermans Bend urban renewal precinct.
The amalgamated site, acquired from a local syndicate with ties to Landream and non-bank lender Aus Finance Group, sold with an existing permit for 20,900sqm of mixed-use space, which Alt Living intends to amend to include 253 build-to-rent apartments and commercial office space.
Combined, the two projects are expected to yield 520 rental apartments with an end value of about $500 million.
Both projects will begin construction in the second half of this year and are due to be completed by mid-2024.
Although each project will have a "different set of requirements" in terms of returns, Mr Paul said a yield above 4.75 per cent would represent a "healthy number".
"We're interviewing advisors with the aim to kickstart the formal roadshow in the second quarter of the year.
"We hope to raise $200 million of equity capital to fund [construction of] these two sites. We're targeting offshore and local institutional investors," Mr Paul told The Australian Financial Review.
He said Alt Living's strategy was to raise the equity first, before securing "readily available" debt funding from banks and non-bank lenders.
The launch of Alt Living adds another player to Australia's rapidly expanding BTR sector.
In November, Macquarie launched a $500 million build-to-rent platform called Local, while in June, Investa and Canada's Oxford Properties launched its Indi BTR business with a goal of developing 5000 rental apartments.
Melbourne is the epicentre of the burgeoning asset class in Australia with 8000 units across 21 projects under development, according to JLL.
Other major players in the sector include Mirvac, Grocon, Aware Super and Qualitas.
Mr Paul said Alt Living would position its platform as a premium offering focused on appealing to young working professionals and postgraduates.
"We're keen to expand into Sydney, Brisbane and Perth," he added.
Mr Paul said he was confident Australia's BTR sector was capable of a similar growth trajectory as that of the United Kingdom which has gone from building fewer than 5000 units a year in 2016 to more 20,000 forecast completions this year, according to a JLL report.
Key to this growth, he said, was the participation of Australian superannuation funds, something which was already "starting to happen" as seen with Australian Super taking a 25 per cent stake in developer Assemble Communities and Aware Super partnering with fund manager Altis on its own BTR projects in Melbourne.
Landream, whose developments include the Opera Residences at Sydney's Circular Quay, is an investor in Alt Living alongside other local private investors including developer Toby Pope and entrepreneur Jonty Nel.
Landream managing director Kevin Li has joined Alt Living as executive chairman while Landream executive director Kim Pham has been appointed chief financial officer.
Aus Finance Group chief investment officer Kevin Said has been appointed head of capital at Alt Living while Mr Pope, whose Alpha 14 Property Group secured the original Buckhurst Street permit, will head development.
"Institutional interest in build-to-rent is being underpinned by low interest rates, rising residential property prices and demographic shifts towards renting," Mr Said said.
"As a result, we are seeing investment mandates being formed by institutional capital, specifically for build-to-rent housing in Australia."
For more information on Alt Living, click here.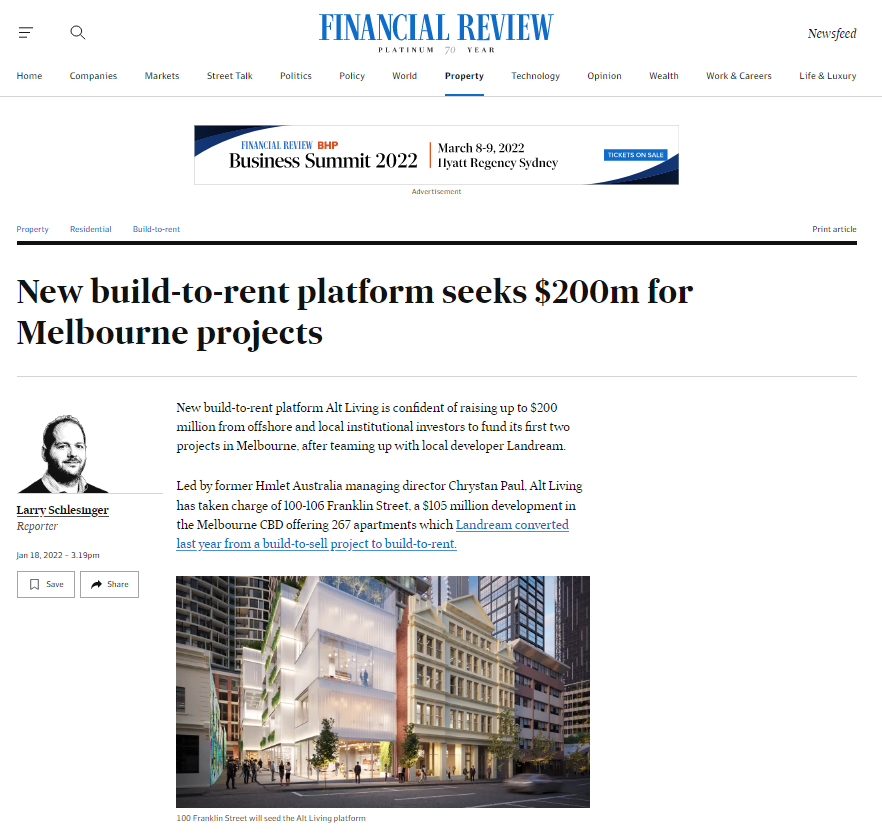 Go To Article >