The iconic saying 'First in, best dressed' certainly rings true for Brighton property development, The International, with its $4.7 million penthouse being sold to the very first person to step foot in the display suite.
The luxury residential development is the vision of a joint venture between property magnates Landream and V-Leader, who splashed an extravagant $1.5 million on the 350 square metre display suite.
"The International display suite gives potential purchasers a fully immersive experience, illustrating everything they can expect from the development, from the landscaping through to the exterior and interior finishes." Henry Burbury, CBRE Director of Residential Projects Victoria
Situated in the heart of Brighton, and architecturally-designed by the multi-award-winning Carr Design, The International is due to set a precedent of luxury modern living in Melbourne's coastal suburb of Brighton.
The vast 4,100 square metre section means that each home boasts spacious living areas, including a long list of site amenities such as:
A private dining room
Executive office suites
Concierge services
A wine room
Onsite café
Expansive rooftop garden
Carr Design have created a series of properties which seamlessly blend in with the surrounding landscape and incorporate elements of the rich tapestry of history, while also creating peaceful living spaces through the use of symmetry and natural light.
"The thinking behind the [property] is to create a building with great street presence of beautiful detail, quality and texture." Chris McCue, Director of Architecture at Carr
While the homes vary in scale, the attention to detail remains consistent across all properties. There are strong coastal themes with the use of tactile materials, drawing inspiration from the neighbouring Brighton Beach.
"We wanted to create a sense of slowing down. At all stages we wanted there to be a really strong connection to the sound and movement of water, to slow you down and create a truly tranquil arrival." Chris McCue, Director of Architecture at Carr
Each home boasts all the modern luxuries from Gaggenau appliances to integrated walk-in wardrobes, giving buyers a full lifestyle upgrade.
The International's living areas are spacious and open plan with large sliding doors providing a seamless connection to the landscaped garden areas.
Positioned on Brighton's coveted Bay Street, The International is just a stone's throw from established retail precincts and some of the city's top eateries and bars.
The International residences are selling now from $1,315,000, and private viewings are available by appointment.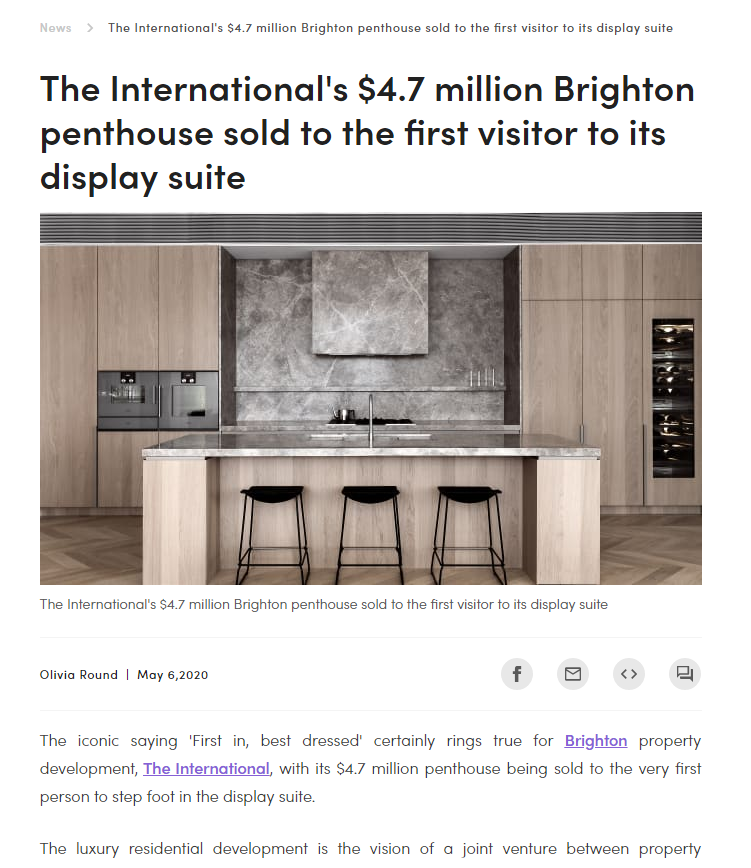 Go To Article >