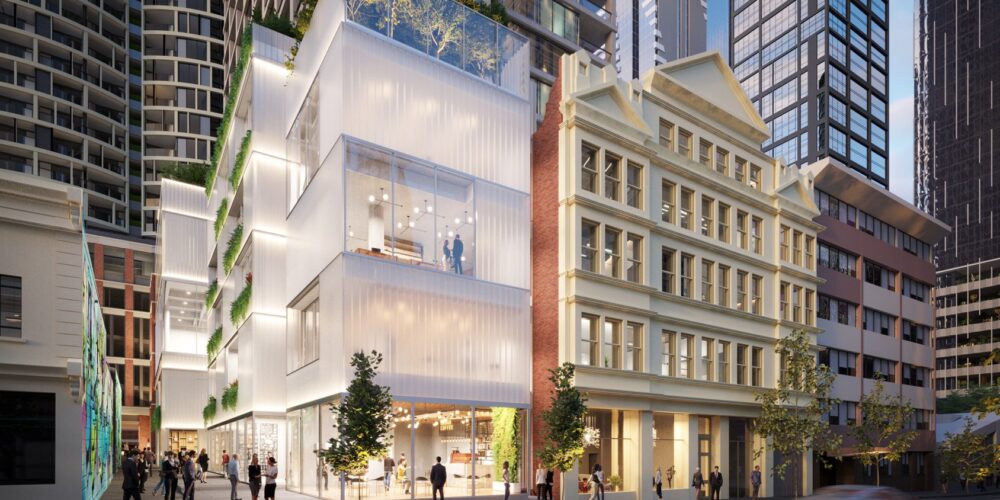 Private developer Landream is pursuing a 267-unit build-to-rent project in Melbourne's CBD, switching from a plan for build-to-sell apartments that had been approved for the site it bought late last year.
The proposal for BTR was lodged less than a week before the state government handed down a budget underpinned by increases in property taxes that some developers in the growing sector said could threaten further investment.
Designed by Bates Smart, the $105 million project at 100-106 Franklin Street involves a 41-storey tower comprising 267 build-to-rent dwellings along with retail and co-working space. The design includes a public basketball court.
The site covers two buildings. The larger one, 100 Franklin Street, was bought by Landream last December for $30 million from residential developer Burbank, which had approval for a 22-storey tower with 84 dwellings and nearly 4000sq m of commercial space.
The history of the site – it dates back to 1859 and was once home to refrigeration pioneer James Harrison's Victoria Ice Works – has inspired the "ice cube" styling of part of the Bates Smart design, which retains the historic building.
"The BTR space allows continued control of the environment beyond the building's completion, which Landream sees as a great opportunity to enhance the user experience."
The project is short walk from the Queen Victoria Market and a separate BTR project in the neighbourhood that ASX-listed Mirvac is pursuing.
The Landream application proposes doubling the width of Blender Lane, creating more public space and providing pedestrian access between Franklin and Therry streets.
Landream has proposed an ambitious array of amenities, including dog- washing facilities, car-sharing and bike-sharing services, a children's playroom, vegetable gardens and gym and yoga studios. Private dining rooms with kitchen facilities, office boardrooms, libraries, a snooker room, rooftop terraces, a swimming pool, spa and sauna are also part of the plan.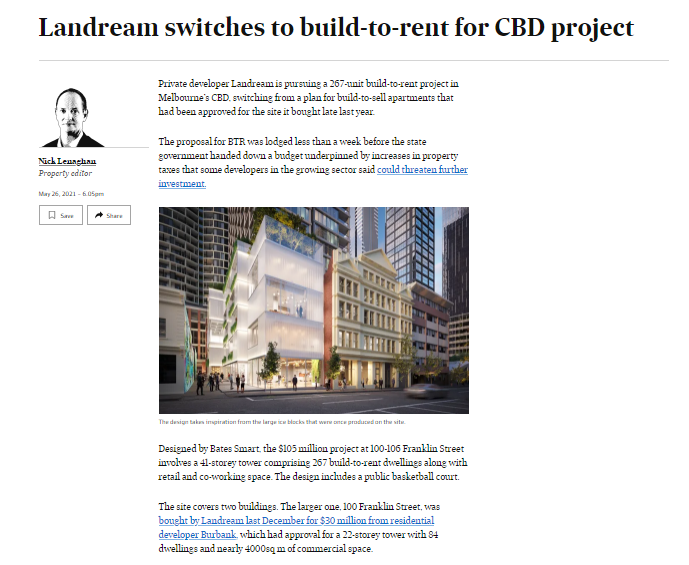 Go To Article >