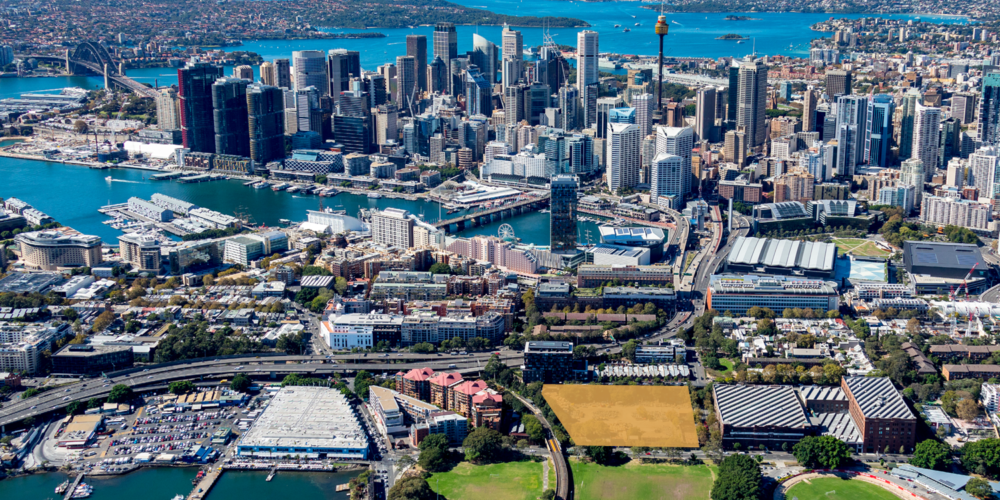 Australian developer Landream has lodged a first-stage development application for the future mixed-use project at the former City of Sydney Council depot in Sydney's Pyrmont, cementing its plans to forge ahead with the project.
After a long planning process, the group – fresh from breaking ground at its Opera Residences development, a joint venture with Macrolink – has quickly moved onto its next project despite cooler housing conditions.
Its Opera Residences project holds the national record for the most expensive price for apartments on a per square meter rate.
As the group has only lodged a Stage 1 application, it has not finalised the number of dwellings it will build on the site at 14-26 Wattle Street. However it is seeking approval for "4 to 7 storey" building envelopes to deliver a total of about 45,000 sqm of gross floor area. Artistic impressions of the project are yet to be released.
This is a preliminary indicative mix of more than 25,000 sqm in apartments with water views and 15,000 sqm in a stand-alone A-Grade commercial property.
Additionally, Landream confirms it will provide ground floor retail, public links for direct access to the light rail and open spaces.
As part of the sale deal, the developer will also build a childcare facility and a multi-purpose recreational facility with two multi-use indoor courts for the City of Sydney Council.
Following community consultation, Landream – which bought the depot site at the corner of Fig and Wattle Streets last year for $200 million –  has engaged architects Tzannes to design a concept plan that will celebrate the site's history, first as a quarry and then as a depot.
"We think the opportunity to provide large and connected floorplates with direct access to fantastic amenities like Wentworth Park and the Pyrmont foreshore will be very appealing to a wide range of tenants seeking flexibility and a unique identity," Landream Managing Director Kevin Li said.
The final design of the project will be unveiled after a Design Excellence Competition. In that stage of planning, the number of homes will be revealed.
This is the first time the property is being developed in 100 years.
Close to the soon to be revamped Sydney Fish Markets, the project was once tipped to be  a new public school but the NSW government walked away from a deal to purchase the site for the school in 2015.
It is also near Wentworth Park, two universities and Chinatown.