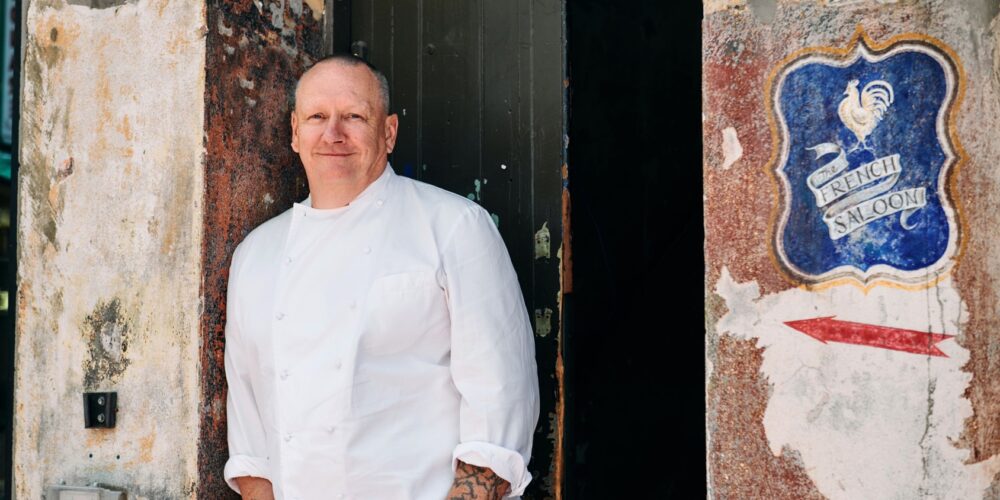 Chef Ian Curley is planning a relaxed eatery in Brighton – Bayside bistro chic
British-born chef Ian Curley has been pivotal in shaping Melbourne's culinary scene over the decades with iconic restaurants such as The European, Kirk's Wine Bar and French Saloon. But it's his next move – a stone's throw from his Brighton home – that's elevating the notion of local.
The culinary heavyweight will unveil a new restaurant at The International Brighton by the end of 2022. The development is under construction, but it will feature 58 luxury apartments above a 400-square-metre space that Curley will occupy on the ground floor. The yet-to-be-named restaurant is less about fine dining – a relaxed menu is planned. "It's the first restaurant in my career that I will have opened a place on my own without partners," says Curley, who has called the bayside home for the past 25 years.
It's also where his kids attend school and his wife Simone runs her own medical practice.
"What really appealed to me about the site were the apartments upstairs. It's a self-contained business, and if I get the formula right, everyone who lives upstairs will come down to me for a coffee and a meal," Curley says.
While the idea of opening a new restaurant as we wake from a prolonged pandemic slumber seems like a gutsy move, Curley says Melbourne's culinary scene will re-awaken.
"Restaurants are changing; there's no doubt about it," he says. "But we saw Melbourne's appetite for restaurants and good food in between lockdowns. We all want to get back out there and dine."
Curley says the restaurant model of yesteryear is out of date – what worked a few years ago has to be modified for survival in 2022.
"There used to be a time you would open for lunch and dinner, and you'd BYO and be on your way," Curley says.
"Those glory days have gone now. Your restaurant has to be capable of doing great takeaway, offer great bottles of wine for takeaway and do different things to survive and adapt. I won't be on Uber, but I will offer meals you can't resist."
While he hasn't quite worked out the menu, Curley says it'll be a sweet spot between Kirk's Wine Bar and French Saloon.
"I want it to be somewhere locals can relax; somewhere suitable for families, couples. I don't want it to be a fine dining setting."
Curley is keen to encourage locals to rally behind his new venture, which will have the European bistro chic he's honed in Melbourne's CBD.
"As I get older, I don't need the glitz and glamour of fine dining or a mention in The Age Good Food Guide," he says. "I have become more insular, and I am really doing this for me and my family.
"I think people in Brighton – who have a lot of food places to choose from – are open to the idea of something else. What we do will be different."
Construction of The International Brighton's 4100-square-metre complex at 81 Bay Street is being overseen by Carr Design, which celebrates 50 years in the business this year.
"The pandemic has shifted our palate, and that's not necessarily a bad thing," Curley says.
"It showed us how to appreciate what we have in our own country, and the new restaurant will be about celebrating that."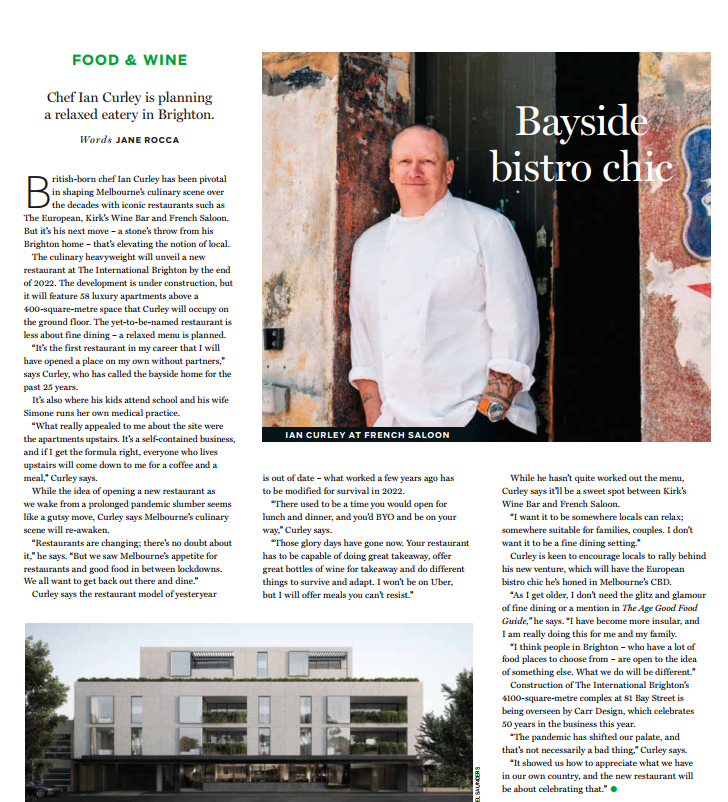 Go To Article >