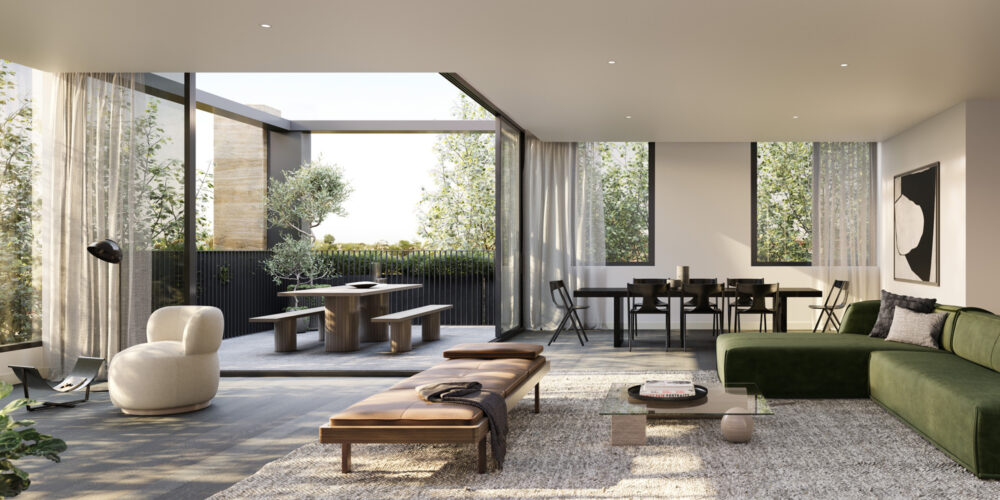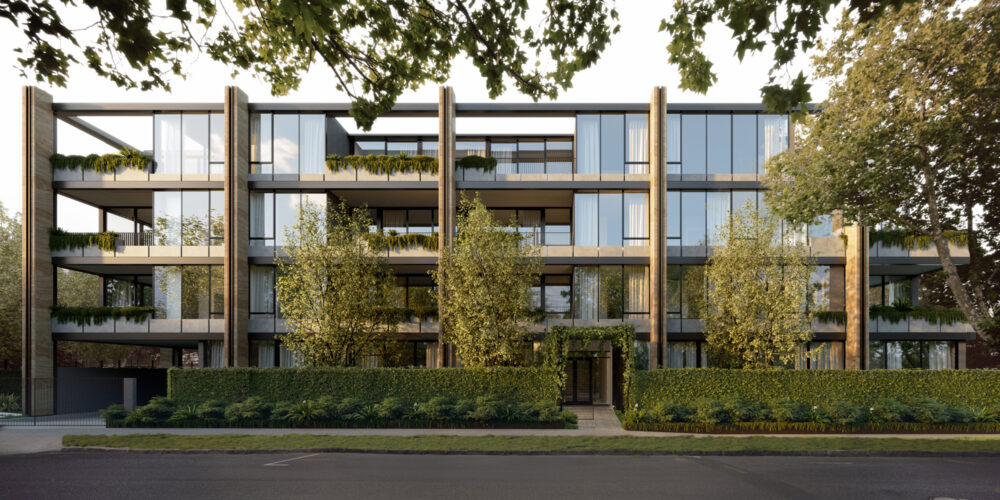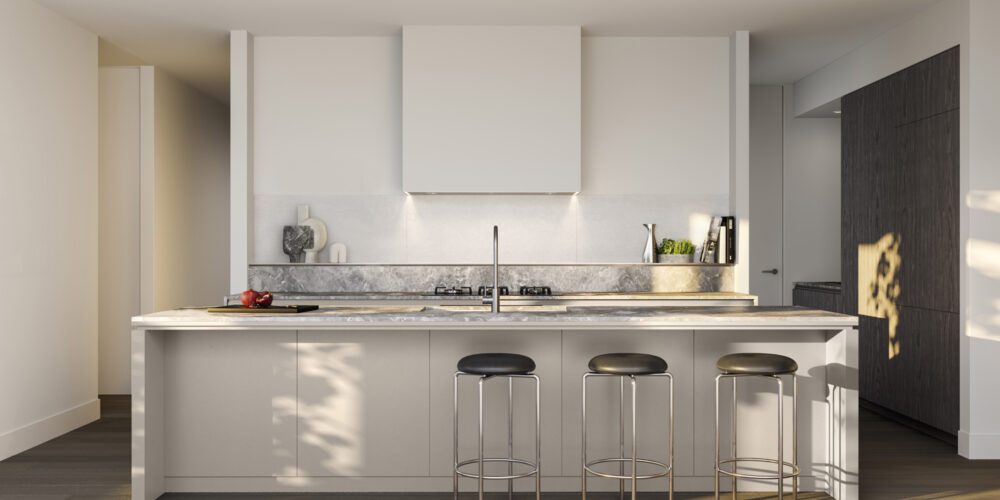 Erected using the sustainable rammed earth method, Hurstmon Malvern is on track for completion this year. Limited three-bedroom penthouse and ground floor apartments are still available at this extraordinary new address, now with stamp duty contributions from the developer, Landream, being offered to purchasers.
A calibre of design worth celebrating
Hurstmon is comprised of oversized dwellings spread across four levels, crafted with layered, rich design motifs. The lauded team at Telha Clarke have observed an architectural philosophy of longevity and sanctuary in creating Hurstmon. This rationale is shown by the robust, natural materials seen throughout these luxury dwellings. Discerning buyers will appreciate this use of quality materials.
Hurstmon homes feature texturizing light designs from the artisans at Articolo Lighting. Sculptural columns also feature throughout Hurstmon, consolidating an air of grandeur and timelessness.
Premium features are seamlessly integrated into each room in your Hurstmon home, including an oven, rangehood, and dishwasher from Suisse V-ZUG appliances. Each dwelling features exquisite walnut timber joinery, subtle timber floorboards, natural stone throughout the kitchen, and luxurious carpet in bedrooms, all articulated in an earthy, durable format.
The sustainable rammed earth technique used to build Hurstmon is not the only environmentally friendly component of the project. Rainwater harvesting, state-of-the-art building insulation, car park ventilation fans controlled by CO² sensors, natural gas-fired central hot water system, energy efficient LED lighting, common areas activated by motion sensors, robust solar panel capabilities powering common areas, and a regenerative electrical control lift take Hurstmon's green, future-proof prowess to the next level.
Homes of stately proportions
Hurstmon is positioned along a quiet, handsome avenue of robust trees and established gardens. In keeping with its verdant Malvern surrounds, Hurstmon boasts a pronounced focus on landscape architecture. Gardens at this sensational new address have been expertly designed with a suite of plants that will develop characteristics, depth, and layering over time. This curated, delicate treatment of the site and the way that Hurstmon relates to its surrounds is thanks to the fabulous team at Eckersley Garden Architecture.
Ground floor residences feature sweeping landscaped courtyards that can combine indoor/outdoor living spaces to create immense entertaining areas. The seamless transition from indoors to outdoors at Hurstmon, facilitated by intricate climbers creating a sense of private sanctuary, instil a distinct sense of contemporary vastness. This spaciousness complements large indoor proportions and scale, delineated by streamlined open-plan layouts.
Premier positioning for a lifestyle with flair
Few areas rival the coveted Malvern location. Malvern Town Hall and the High Street Armadale precinct are a short walk away, as are a host of world-class educational institutions including Saint Mary's Primary School, Lloyds Street Primary School, Korowa, Sacré Coeur, Caulfield Grammar School, and Monash University.
Leisure, activities, and wellbeing can be optimised with Willow Urban Retreat and Day Spa, Harold Holt Swim Centre, St James Valley Cricket Club, East Malvern Junior Football Club, East Malvern Tennis Club, and Cabrini Health, all nearby. Hedgeley Dene Gardens, Dorothy Laver Reserve West, Central Park, and Caulfield Park are also close.
Hurstmon is a 300-metre walk to Darling train station and twenty minutes on the train from Flinders Street Station. The local tram numbers 3, 5, 6, and 72 go to Melbourne University. You can also hop on a local number 612 bus to visit Chadstone for great retail options.
Hurstmon Malvern has an informative sales office at 1111 High Street, Armadale.
Dwellings range from $1,450,000 – $2,055,000.
To enquire about Hurstmon Malvern, click here.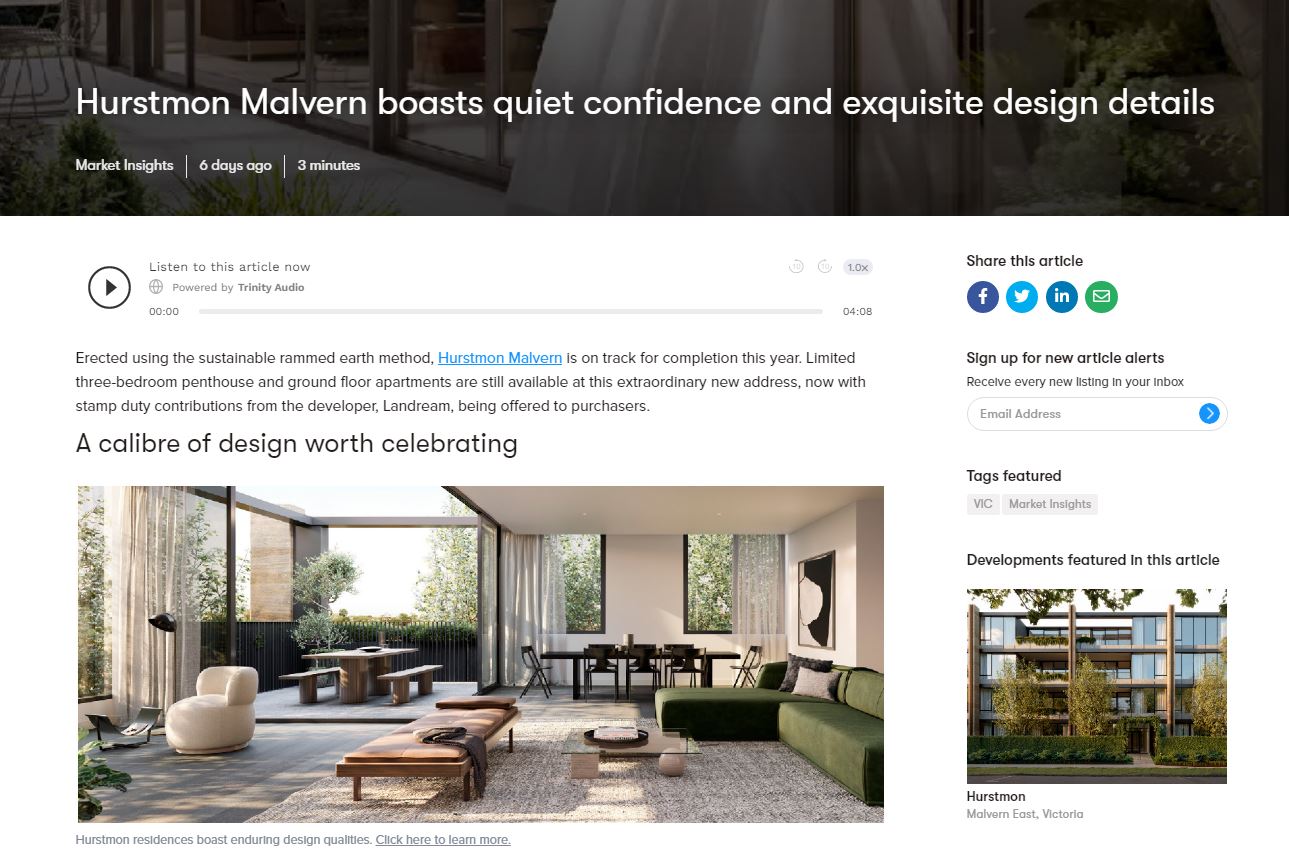 Go To Article >