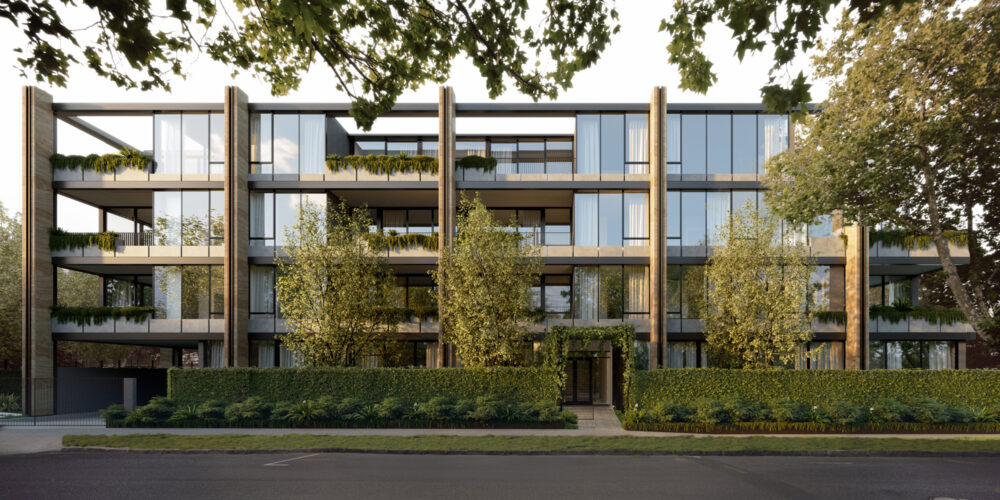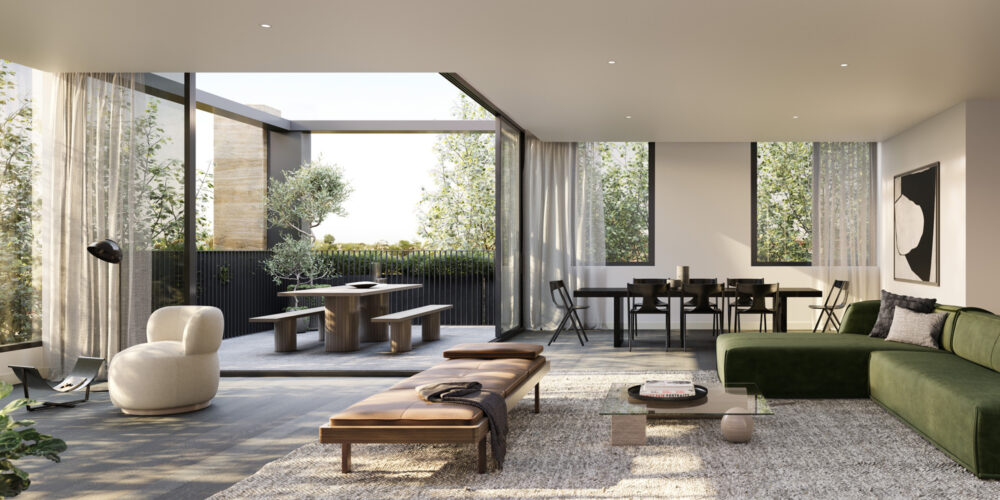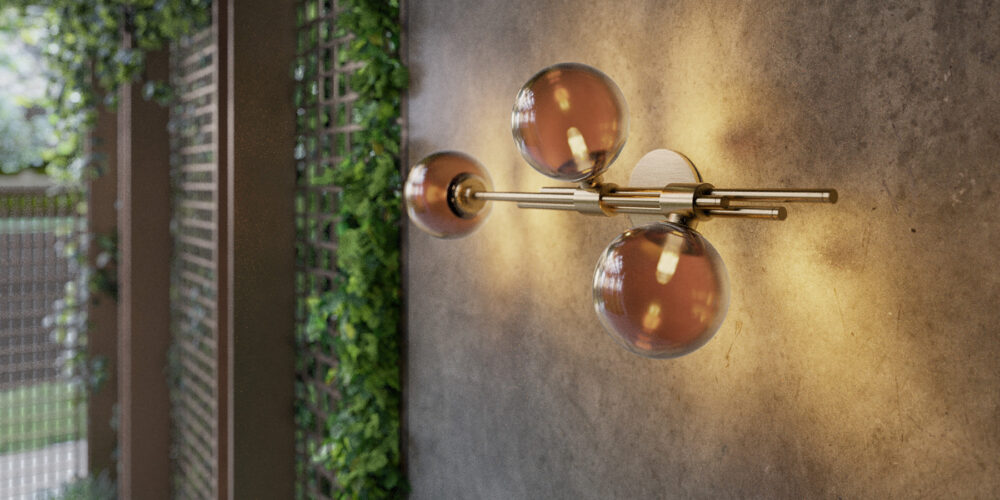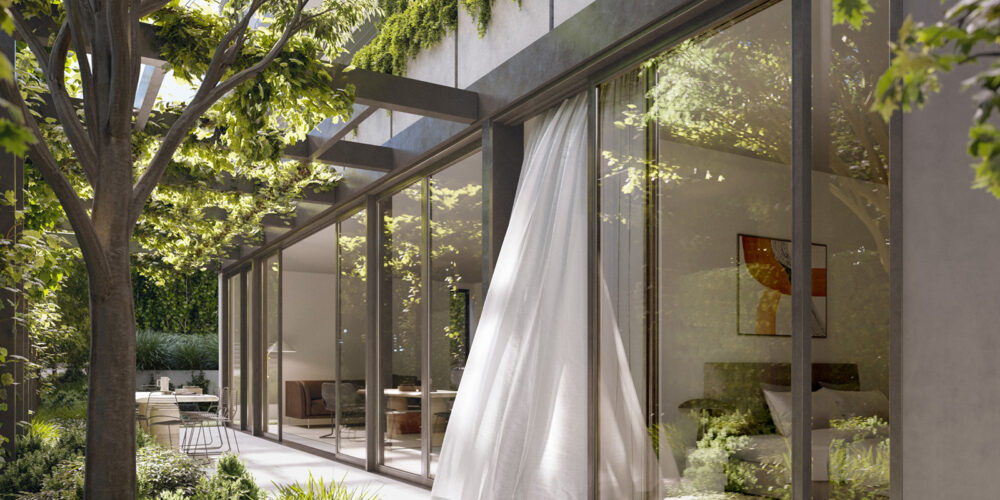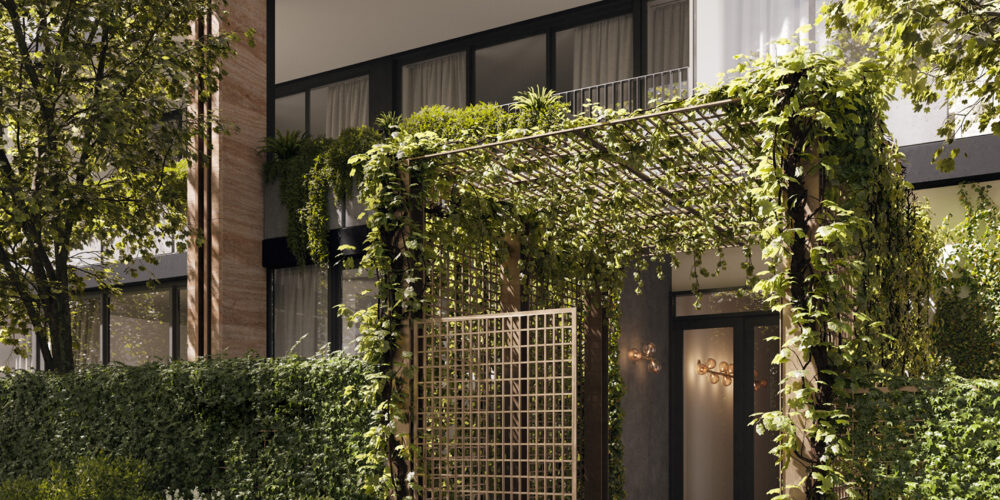 Featuring natural interiors that integrate seamlessly with curated green spaces, Hurstmon residences are premium homes for the discerning buyer. With move-in scheduled for this year, and only a 5% deposit required until settlement for a limited time, this is your last chance to live in the tree-lined streets of Malvern East and save on stamp duty.
Hurstmon is one of only 3% of all new residential apartment buildings off a main road, allowing you to enjoy the calm and serenity of the tree-lined streets of Malvern East. With the developer's release of three-bedroom apartments, including ground floor and penthouse residences, Hurstmon offers a unique opportunity to purchase an expertly crafted home in the sought-after Malvern East locality.
Considered architecture for simpler living
Hurstmon has been carefully designed by the experienced team of architects at Telha Clarke. The architecture has been designed to accentuate the majestic trees and gardens of the surrounding area. With expansive interiors that promote light and airflow and feature walnut timber joinery, clean white walls and pale timber floorboards, the interior design ensures that light beautifully accentuates elements of your home throughout the day. The homes at Hurstmon have truly been designed to last, incorporating quality materials and thoughtfully appointed finishes.
Carefully curated landscaping
Garden landscaping plays an important role in merging the leafy, tree-lined streets of the area with the green outdoor spaces at Hurstmon. Eckersley Garden Architecture has been a consultant on the project to create relaxed and tactile gardens that invite residents to enjoy their outdoor spaces. Appealing to the prospect of longevity, the gardens at Hurstmon have been designed so that plants will mature with grace, developing a beautiful level of depth and layering over time.
The front of the property will feature landscaping that seamlessly interweaves with the avenue of stately trees and established gardens on which it is located. Ground floor residences feature landscaped courtyards that extend your living space out and into a spacious entertaining area. The artfully curated gardens at Hurstmon are really an extension of your home, and a way of seamlessly connecting interiors with the broader aesthetic of the surrounding area.
A leafy locality that fosters a sought-after lifestyle
Malvern East is a popular area with an abundance of local cafes, eateries, retail, parks, and recreation. With the recently released three-bedroom apartments perfect for young families and empty nesters, the Malvern East lifestyle caters ideally to family life.
High Street offers a plethora of retail stores, restaurants and cafes where you can enjoy a morning coffee or a family dinner. Enjoy a match of tennis at the nearby Malvern East Tennis Club, or a leisurely stroll around the leafy Hedgeley Dene Gardens. Or, if you'd prefer to venture into South Yarra or the CBD, you can catch the train from Darling Station just a 300 metre walk away.
Hurstmon offers a unique opportunity to make your home within the leafy streets of Malvern East. For more information on Hurstmon, or to enquire, click here.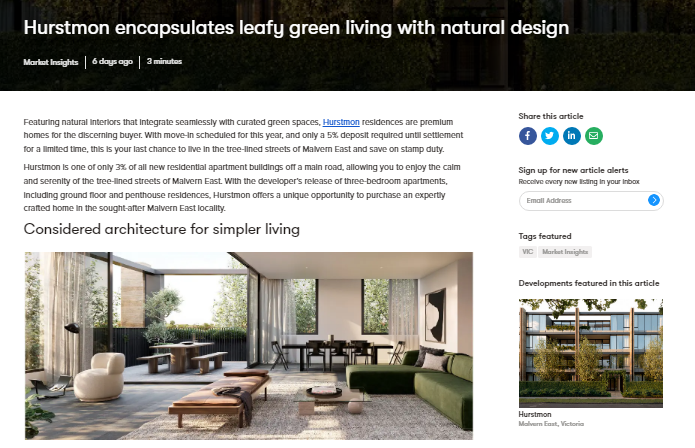 Go To Article >