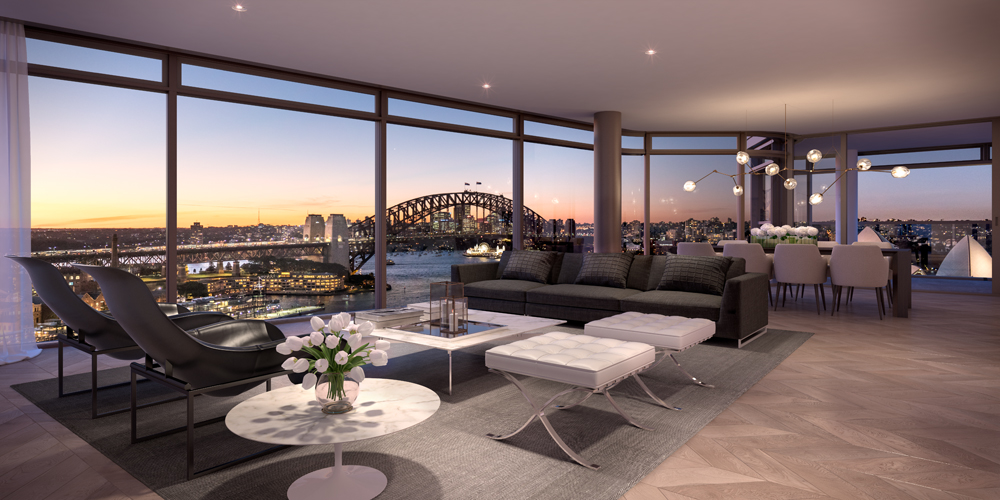 Pricier than Point Piper's best.
After a year of negotiations with local authorities, works at Opera Residences have officially commenced after achieving construction approval. The go-ahead to proceed on the 104 apartments was given after lengthy discussions with over 20 organisations, including the NSW Heritage Council, Harbour Foreshore Authority and Sydney Water.
Those looking to invest in some of Sydney's finest real estate will have to sit on the bench until secondhand sales pop up, as all 104 apartments were sold off the plan for a total of around $500 million in 2016. Opera Residences officially takes the crown as Australia's most expensive real estate, achieving a value of $96,000 per square metre and easily besting the priciest properties in Point Piper and the CBD, which max out at $50,000 per square metre.
Incredibly, it only took a matter of hours to sell out the entire list of units, with prospective buyers lining up around the block on launch day at Circular Quay. Demand was driven primarily by the rarity of the position – Opera Residences offers the last opportunity to invest in new Bennelong Point real estate.
Most records were attributable to the development's penthouses, which racked up bills of $26 million and $27 million, respectively.  The first penthouse is 272 square metres and was purchased by a CBD-based local who was already familiar with the project, having also purchased two sub-penthouses for her children on levels 17 and 18 for $15 million and $16 million each. The apartments feature three bedrooms and unrivalled views over the Harbour Bridge, Opera House and the Botanical Gardens.
A local family from Sydney's lower north shore staked their claim on the top level, four-bedroom penthouse of 280 square metres for a princely sum of $27 million. However, bear in mind that these are contract prices, with only a 10% deposit payable upon signing and the balance due at completion of the building in early 2021.
The developers at the helm of the project, Landream and Chinese conglomerate Macrolink, purchased the former Coca-Cola Amatil site at 71 Macquarie Street from AMP for $158.5 million in January 2016.
As with any purchase, the big question is – what else can I buy for the money? The good news is that for $27 million you've got yourself some tidy options. You may be tempted into something like 20B Tivoli Avenue in Rose Bay for $23.56 million and have some change to fill the garage with a few of these.