Produced in partnership with Gaggenau
We're taking a deep-dive into how Carr crafts their signature, best-in-class kitchens with senior interior designer Rita D'Souza.
For more than 40 years, Melbourne studio Carr have pioneered residential projects with a consistently timeless approach, founded on connection. Carr senior interior designer Rita D'Souza has been in the residential design industry for 15 years, working across many of the studio's highly-resolved projects. Specialising in Carr's luxurious kitchen design, we caught up with Rita to discuss their defining aesthetic, what they can't look past in the kitchen and why selecting quality materials, finishes and appliances is essential to their design philosophy.
When a Carr project springs to mind, no doubt you've noted the expanse of glass. A defining feature in their work, Carr's spatial planning is always with axial views and views to outside. They are hard and fast on introducing natural light, as a way of opening up the interiors and cementing an indoor-outdoor connection. Senior interior designer Rita D'Souza maintains they're always deliberating on how a space can bring joy.
"When the quality of the space is right, it makes you feel like you can do anything in it," she says. Rita also adds, the team steer far away from trends in any shape or form. "Both for me personally and at Carr, interiors should have longevity to them, including a kitchen, whether that is in the materiality or the appliances." This rings true in all of their bespoke projects, both single-residential and multi-residential.
Carr's kitchens have an assured sense of symmetry and order. Rita says this brings a level of finesse and sophistication at a functional level in the kitchen. The interior designer is also inspired by ideas of lightness and circulation, and how kitchen elements can be more than a cupboard or a piece of joinery. "How can sculptural forms be inserted?" Rita says. "How can the kitchen be a statement in its own way?"
"Both for me personally and at Carr, interiors should have longevity to them, including a kitchen, whether that is in the materiality or the appliances," Carr senior interior designer Rita D'Souza
For Rita, functionality in the kitchen comes down to usability. "We consider every movement and action when designing a kitchen, and how best to optimise the layout," she says. "Material choice also plays an important part; I will often look at textures and durability."
Carr specify materials and finishes inspired by the architecture, site and location, with the same thread of quality. "In our Seafarers project, we took inspiration from the rich, sturdy materials found on the docks, and the kitchens feature textural porcelain, which is something quite unique," Rita explains.
Carr place significance on the appliances that enter these kitchens, scrupulously assessing their fit with context, functionality and materials. Most often they lean on Gaggenau appliances, resonating with the precision and innovation that forms the basis of the brand. "What is most successful about the Gaggenau range is its strong design aesthetic and reliability," Rita affirms. The studio designed the Gaggenau Melbourne showroom, relaying their understanding of Gaggenau's 336-year history and origins on the edge of the Black Forest, Germany through the dark and moody interiors.
Clients put their full trust in Carr's appliance selection. "In most cases, our clients have strong ideas of quality and craftsmanship, and this is what you can expect in a Gaggenau product," Rita says.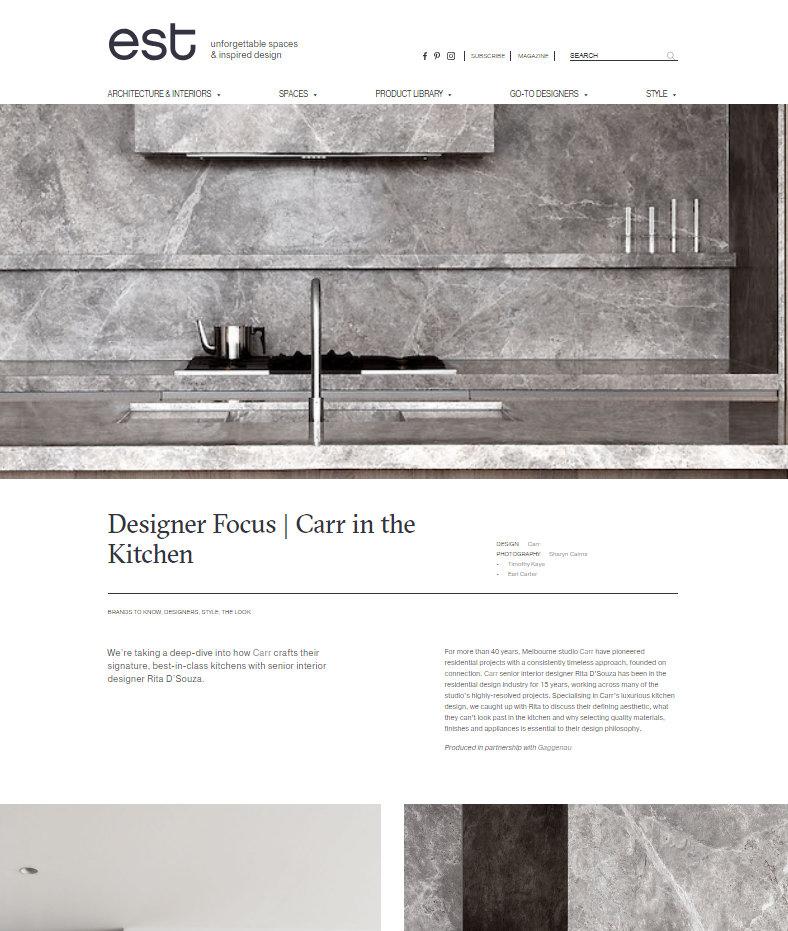 Go To Article >