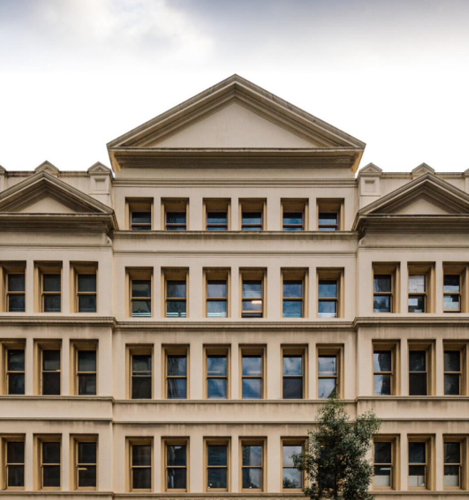 A classic Collins Street office block, built in the 1930s and now home to the head office of Chinese e-commerce giant Alibaba, has changed hands for more than $40 million, as the Melbourne market swings back into action.
The transaction at 411 Collins Street – title and company documents show Peachtree Capital's Greg Rosshandler on the buy side – is one of two sizeable deals over the New Year break.
Residential developer Burbank has sold its headquarters of nearly two decades, a historic five-storey building at 100 Franklin Street, for nearly $30 million to developer Landream.
The nine-storey tower at 411 Collins Street, held by a private family, went on the market in November just as the city's second lockdown eased, allowing inspection of commercial properties.
Vinci Carbone's Frank Vinci and Joseph Carbone, and Colliers International's Oliver Hay, Matt Stagg, Daniel Wolman and Leon Ma brokered the sale of the art deco era building, which has a distinctive modern gothic facade.
Mr Vinci said buyers responded well to the property's prime spot on Collins Street and its solid income as well as the fact that there was a limited supply of commercial real estate in the market.
Colliers' Mr Hay said: "We are dealing with an abundance of unsatisfied capital for similar assets within the Melbourne precinct."
Further north on the CBD grid, Burbank has exited its HQ on Franklin Street, which it had bought at auction in 2002 for $3.725 million.
Built in the 1850s, the Franklin Street site was once home to refrigeration pioneer James Harrison's Victoria Ice Works and has been home to a coach-builder and ironmonger.
After a series of planning proposals, Burbank eventually won approval for the development of a 22-storey tower with 84 dwellings and nearly 4000sq m of commercial space on the site.
"Rarely do mixed-use, DA-approved CBD assets with such obvious locational upside come to market," said Colliers International's Leon Ma, who brokered the sale with colleagues Oliver Hay, Daniel Wolman and Trent Hobart.
The buyer at Franklin Street is Landream, which itself sold out of 600 Collins Street – the site once slated to become the Zaha Hadid-designed home for the country's first Mandarin Oriental hotel – in a $200 million deal just before Christmas.
The 600 Collins Street site was taken over by US firm Hines, which is putting together plans for a $1 billion-plus office tower.
Go To Article >