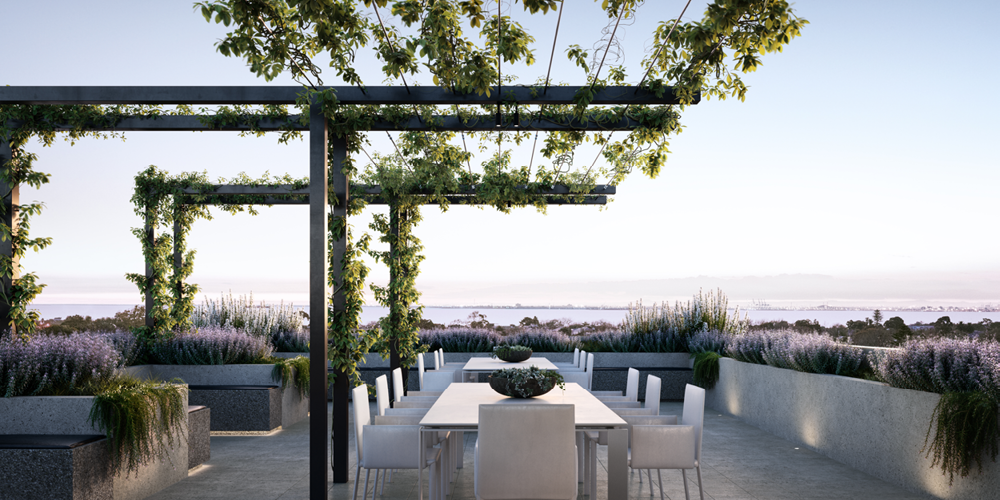 Many Brighton locals will associate the site of this new apartment project with memories of 21st birthdays and weddings.
Reception centre The International on Bay Street is soon to become a five-level apartment building comprising 59 residences.
The upmarket project by developers Landream and V-Leader will give residents views of the bay and city from its prized location, not to mention enviable proximity to the nearby beach and shops.
Architect Chris McCue from Carr Design Group says the project known as The International, Brighton has been designed to accommodate luxury lifestyles from the moment residents walk in the front door.
"There's a beautiful, open ground-floor space that looks across a water body and then to a densely planted landscape," he says.
"Given the connection to the bay and the water not being far away, we wanted to bring the idea of moving water into the procession of how you move into the building."
A generous lobby space with a lounge leads to a private dining area and wine bar.
A communal wine room, which has been custom designed by Vine and Vault, is also in the lobby.
Two buildings make up the development – a smaller one to the rear and a larger one on Bay Street.
The facade of the main building features glass reinforced concrete in a muted sandy tone with recessed balconies set behind planters to give each residence privacy from the street front.
The seaside style of Brighton's mansions has influenced segments of the design, McCue says.
"Each apartment is articulated by a really finely detailed projecting bay window, which is not so much a play on Bay Street itself, it's really around the incorporation of some of the architecture of the context where a lot of old family houses are predominantly brick with smaller punched openings, usually with bay windows," he says.
The rooftop is another place to unwind with surrounding greenery designed by landscape architects Tract.
It's also an ideal space to entertain friends with dining tables, barbecue and bench seating.
Construction of The International, Brighton is due to start in the first half of 2020.
At a glance:
The International, Brighton – 81 Bay Street, Brighton
Architect: Carr
Developer: Landream & V-Leader
Interior design: Carr
Number of apartments: 59
Internal sizes (sqm): Two-bedroom 97-125, three-bedroom 143-265
External areas (sqm): 14-183
Prices: Two-bedroom $1.195 million, three-bedroom $1.74 million
Car parking: At least two car spaces for each residence
Completion estimate: Second half of 2021
Agent: CBRE, Henry Burbury 0407 686 788
Open for inspection: Onsite display suite open by appointment